Product Description
CamelBak All Clear turns nearly any tap or clear natural water source into potable drinking water in just 60 seconds, letting you hydrate on the spot. And, since CamelBak All Clear is a water bottle as well as a purification system, you can enjoy your water right after treatment or carry it with you. Reliable Purification, Whatever the Destination. CamelBak All Clear utilizes proven UV technology to effectively neutralize microbiological contaminants to EPA standards. With a built-in LCD to confirm your results, purification has never been easier. CamelBak All Clear utilizes proven UV technology to effectively neutralize microbiological contaminants without introducing chemicals a technology employed by many urban water municipalities for its reliable effectiveness in the large-scale purification of tap water. Reducing bacteria by 99.9999%, viruses by 99.99% and protozoan cysts by 99.9%, All Clear purifies water not only to stringent EPA standards, but to CamelBak s uncompromising standards of safety and performance. Pre-filter also available to purchase
ITS ALL IN THE CAP!
Integrating powerful UV technology into an energy-efficient cap, CamelBak All Clear delivers optimum UV exposure at the press of a button for purification so reliable, we ve backed it with our Got Your BakTM Lifetime Guarantee. Engineered to perform even under the toughest conditions, All Clear has been tested and retested under severe conditions to deliver drinking water you can trust, everywhere and every time you need it.
ALL CLEAR TESTING RESULTS
To qualify as a microbiological water purifier, production-quality units must meet or exceed the EPA Guide Standard for the reduction of viruses, bacteria and cysts. The units are challenged with test water containing known concentrations of the bacterium Raoultella terrigena, the two enteric viruses: poliovirus and rotavirus, and the oocyst Cryptosporidium parvum
Product Care:
PROPER STORAGE
When not in use, the CamelBak All Clear Microbiological UV Water Purifier should be stored in a clean, dry, and safe environment. It should not be exposed to temperatures above 140 F/60 C, or below -4 F/-20 C.
CLEANING CAMELBAK ALL CLEAR
To thoroughly clean the All Clear UV Cap, wash with a soft cloth and a mild soap solution. Rinse soap from device and dry with a clean, soft cloth. Note that while the UV Purifier Cap is designed to be water resistant, it is not guaranteed to be impermeable and should therefore never be submerged or held directly under a faucet. The Bottle and Classic Cap are dishwasher safe and may be placed in the top rack of a dishwasher for cleaning.
Specifications
Hydration bottle Capacity: 750 ml
Weight: 1 lb 1 oz
Always: 100% BPA-Free
Warranty: Got Your Bak Lifetime Guarantee
Bottle Material: BPA-Free Eastman Tritan Copolyester. Tritan makes the eddy clear, vibrant, durable, dishwasher safe and 100% BPA-Free.
Cap Material: BPA-Free Polypropylene
Features
Portable purification system is built into your water bottle
Utilizes proven UV technology to effectively neutralize microbiological contaminants.
Treats 80 cycles or 16 gallons with each charge.
Impact and weather-resistant cap insulates UV bulb for effective purification every time.
LCD screen verifies success.
Fill from taps, streams, spigots and more.
CamelBak Got Your Bak Guarantee: If we built it, we'll Bak it with our lifetime guarantee.
(55110)
| | |
| --- | --- |
| SKU | 55110 |
| Barcode # | 886798907833 |
| Brand | CAMELBAK |
More From This Category
SAWYER SQUEEZE MINI FILTRATION SYSTEM
From $49.95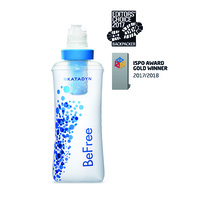 KATADYN BEFREE WATER FILTRATION SYSTEM
From $69.95