Sensitive. Aggressive. Affordable. The X1 offers more sensitivity and "feel" than any shoe on the market without breaking the bank. Built on a medium volume, downturned and down cambered last, the X1 is built for training hard in the gym and sending hard outside. The single hook and loop strap closure make it easy to get on and off. The Trax® SAS outsole and massive toe patch give the X1 a true "sock" fit and feel on the wall without sacrificing a secure fit.
Features
VEGAN FRIENDLY SYNTHETIC - Synthratek VX synthetic upper.
MEGA MOLDED TRAX® SAS TOE PATCH - For maximum performance and comfort.
EX-P MIDSOLE - For maximum sensitivity.
AGRESSIVE DOWN-CAMBER FIT - For maximum performance.
HIGH TENSION HEEL RAND - Puts the power onto the toes.
SINGLE STRAP CLOSURE - Easily locks the foot in.
SPLIT/OUTSOLE - For flexibility through the arch.
MOLDED VTR - Our Variable Thickness Rand (VTR) system puts thinner rand rubber in areas to reduce pressure points and hot spots around the foot as well as thicker rubber for increased longevity in the high wear zones near the toe for durability and performance.
TRAX® SAS - Best friction plus maximum durability.
Specifications
CATEGORY: CLIMBING SHOE • ULTRA PERFORMANCE
SIZES: 5 - 13.5 US MEN'S (INCLUDING HALF SIZES)
WEIGHT: 230g PER SHOE (SIZE 9 US MEN'S)
COLOUR: SEAFOAM NEON YELLOW
PROFILE: DOWNTURNED SEMI-SYMMETRIC
UPPER: SYNTHETIC (SYTHRATEK VX)
LINER: UNLINED
MIDSOLE: EX-P: 0.6mm 1/2 LENGTH
OUTSOLE: 4.2mm TRAX® SAS
RAND: VTR (THICKER FRONT TOE AREA)
(78353)
Others Also Bought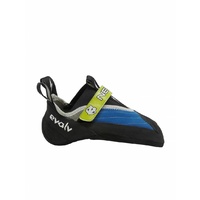 From $249.95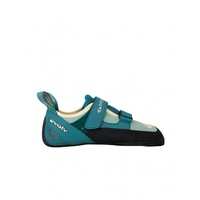 From $159.95
More From This Category