Merino Scarf Single Layer
A neck is a commonly neglected body part essential to providing full body warmth and all round comfort in the outdoors. Sherpa's merino scarves are lightweight, compact and are brushed on the inside for additional comfort and fleecy, soft to touch warmth. They are compact, quick dry and provide superior protection from harsh wind. The double layer of this scarf style means enhanced warmth and comfort for you. These neck scarves will wick away any perspiration, keeping your body dry and warm for long lasting comfort. Made from 100% Australian Superfine (18.5 micron) non itch Merino these garments are top quality garments guaranteed to last and guaranteed to satisfy.
Advantages of Merino Wool
The benefits for buying natural merino wool are endless and beyond worth it in the long run. Having much finer fibres (18.5 micron) than those of other breeds, Merino provides a soft, non-itch finish impossible to beat and packed with technical advantages. As a tight fitting garment, moisture management and breathability is paramount and that's why merino is the best. When it is cold merino fibres keep you warm thanks to their finely crimped structure which retains insulating air. When it is warm, the wool has a cooling effect due to its high breathability. The surface of the fibre is dirt and water repellent protecting your skin from moisture and debris in the outdoors and keeping you odour free! The inside of the fibre can absorb water without feeling wet, providing excellent moisture control and quick dry properties. The wool will retain its thermo-regulating properties even if it is wet. Furthermore, merino wool is extremely easy care and naturally provides great UV protection under the Australian sun.
Caring for Merino
Machine wash. Do not tumble dry or dry clean.
(3222)
| | |
| --- | --- |
| SKU | 3222 |
| Barcode # | 9330003005124 |
| Brand | SHERPA |
More From This Category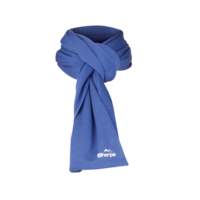 SHERPA DOUBLE LAYER MERINO SCARF
From $44.95